• Savannah Helm • Uncategorized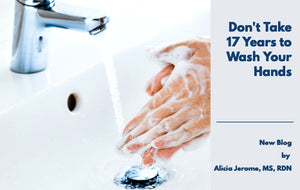 The Greek philosopher, Heraclitus, once said "The only constant is change." Today, it's impossible to stay current on the latest smartphone, system software, political dispute, celebrity drama, or research. Of course, there are always the few who are early adopters to everything. But what about the majority of people? Why do humans resist change, and can anything be done to gift wrap that change and welcome its arrival?
---
• Savannah Helm • Uncategorized
Two possible causes of the cardiovascular consequences of Type 2 (T2DM) stand out: lower nitric oxide (NO) production and increased advanced glycation end products (AGEs).1
---
• Kathy King • Uncategorized
This summer we've launched a new line of products: The Next Step Clinical Course! We wanted to add fresh topics to our clinical CE offerings on topics that our loyal customers have suggested.  What's special about Next Step Courses?
---
• Savannah Helm • Uncategorized
Reports show that only about 30% of people with Type 2 Diabetes (T2DM) achieve good blood glucose control.1 Despite the number of therapies available for T2DM, including:
exogenous insulin, and
medications that decrease glucose release from the liver,
increased use of glucose by skeletal muscles, or
delays in the absorption of glucose from food.
The micro and macro vascular complications remain a challenge. It is now known that these complications are a result of chronic high levels of blood sugar that result in long term oxidative stress, chronic inflammation, non-enzymatic glycation of proteins, and epigenetic changes. Overproduction of free radicals from oxidative stress appears to be the link that unites hyperglycemia and the multiple biochemical forces that result in diabetes complications.
---
• Savannah Helm • Uncategorized
Learn from the best! Using our training course with the book, Recipe Nutrient Analysis: best practices for calculated and chemical analysis, promotes confidence that nutrient values given to clients are accurate.
As the Menu Labeling law is set to take effect in May 2018, the RDN is primed to take the lead role in recipe analysis for foodservice establishments.