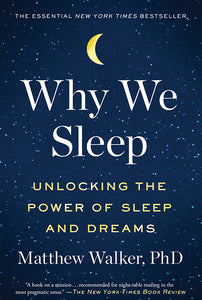 Why We Sleep 2022 (CHES)
Unlocking the Power of Sleep and Dreams
This course is only for CHES practitioners.
Written by a neuroscientist and director of UC Berkeley's Sleep and Neuroimaging Lab, the author, Matthew Walker, PhD explores the purpose of slumber and its little acknowledged or understood crucial functions as related to mood, chronic disease, obesity, cancer, diabetes, Alzheimer's, etc. He explains how to harness the transformative power of adequate sleep and how to sleep better tonight.
Quotes:
The information was extremely detailed. I like that it covered every different aspect of sleep from types/stages, life cycle, dreaming, medications and disease states. No stone left unturned. – Stacy H. 5/31/22
I appreciated the discussion of new research on sleep habits. Very good book and home study. - 5/2020
I liked how much of the book was fascinating as it relates to health and how the test questions help retain this important knowledge to help others. - JT 1/2021
Choose between two versions:
15-Hour Program ID# 114228_WWS2215  CHES 15 Hours / MCHES 6 hr
23-Hour Program ID# 114228_WWS2223  CHES 23 Hours / MCHES 9 hr
Course Expiration Date: May-31-2024
Book Details
Author Dr. Matthew Walker, PhD
Year Published 2017
Edition 1st Edition
Publisher Scribner
ISBN 978-1501144325
Format Hardback
Page Count 360
Recommended For...
Certified Health Education Specialist (CHES)
Why We Chose This Book
About the Author
---