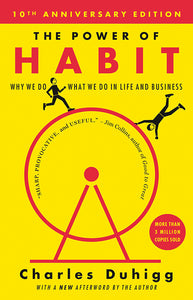 The Power of Habit
Why We Do What We Do in Life and Business
NY Times Best Seller that was requested by multiple RDNs! A study by Duke University found that more than 40% of the actions people perform each day weren't actual decisions, but habits. Our course is a comprehensive review of the evidence-based research regarding why habits exist, their benefits or downfalls, and how we can change them. Award-winning business reporter, Charles Duhigg, discusses a whole new understanding of human nature and its potential. The key to exercising regularly, eating healthy, losing weight, being more productive, and achieving success is understanding how habits work and how to get rid of the bad habits. Learn how companies study our habits to influence what we buy.
Quotes:
Named "One of the Best Books of the Year" – The Wall Street Journal
Entertaining…enjoyable…fascinating…a serious look at the science of habit formation and change. – New York Times Book Review 
A first-rate book—based on an impressive mass of research, written in a lively style, and providing just the right balance of intellectual seriousness with practical advice on how to break or bad habits. – The Economist
New York Times journalist Charles Duhigg's fascinating best-seller is about how people, businesses and organizations develop positive routines that make them productive—and happy. – The Washington Post 
Q&A with Charles Duhigg (Amazon)
Q: How have your own habits changed as a result of writing this book?

A: Since starting work on this book, I've lost about 30 pounds, I run every other morning (I'm training for the NY Marathon later this year), and I'm much more productive. And the reason why is because I've learned to diagnose my habits, and how to change them.
Take, for instance, a bad habit I had of eating a cookie every afternoon. By learning how to analyze my habit, I figured out that the reason I walked to the cafeteria each day wasn't because I was craving a chocolate chip cookie. It was because I was craving socialization, the company of talking to my colleagues while munching. That was the habit's real reward. And the cue for my behavior - the trigger that caused me to automatically stand up and wander to the cafeteria, was a certain time of day.
So, I reconstructed the habit: now, at about 3:30 each day, I absentmindedly stand up from my desk, look around for someone to talk with, and then gossip for about 10 minutes. I don't even think about it at this point. It's automatic. It's a habit. I haven't had a cookie in six months.
Course Expiration Date: Apr-07-2026
Book Details
Author Charles Duhigg
Year Published 2014
Edition 1st Edition
Publisher Random House
ISBN 978-0812981605
Format Paperback
Page Count 416
Recommended For...
Registered Dietitian (RD/RDN)
Dietetics Technician Registered (DTR/NDTR)
Certified Diabetes Care & Education Specialists (CDCES)
Registered Nurse (RN)
Integrative & Functional Nutrition Academy Professional
American College of Sports Medicine
Why We Chose This Book
About the Author
---