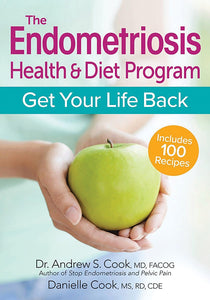 The Endometriosis Health & Diet Program
Get Your Life Back
This book is the most up-to-date, scientifically based research and integrative treatment for counseling women with endometriosis we could find. The two authors, Dr. Andrew Cook, MD, and Danielle Cook, MS, RDN, CDCES are experts in this topic and specialize in women's health. The book begins with the physiology and contributing factors for developing endometriosis, then they offer a lifestyle plan to slow or halt the disease, and end with a focus on food and reducing inflammation. Excellent book for nutrition counselors.
Quotes:
Endo is a very under-researched condition that most doctors are treating with old science that in my experience actually aggravates the issue. – Circe Trov, Amazon 4/3/19
Course Expiration Date: Apr-07-2026
Book Details
Author Dr. Andrew Cook, MD, FACOG and Danielle Cook, MS, RDN, CDCES
Year Published 2017
Edition 1st Edition
Publisher Origin Story Press
ISBN 978-0078805625
Format Paperback
Page Count 338
Recommended For...
Registered Dietitian (RD/RDN)
Dietetics Technician Registered (DTR/NDTR)
Registered Nurse (RN)
Integrative & Functional Nutrition Academy Professional
American College of Sports Medicine
Why We Chose This Book
About the Author
---