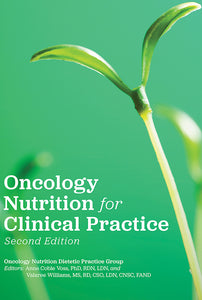 Oncology Nutrition for Clinical Practice, 2nd ed.
Excellent book! Updated with evidence- and experience-based clinical practice application. Covers carcinogenesis, treatment, plus MNT for specific cancers, survivorship, and palliative care. All steps of the Nutrition Care Process are addressed. The second edition discusses nutritional effects of cancer treatments, including chemotherapy, immunotherapy, and radiation therapy. A new chapter covers medical cannabis for cancer symptom management. Appendixes offer summaries of evidence-based diets and alternative or unfounded diets for cancer prevention or treatment.
Course Expiration Date: May-31-2024
Book Details
Author Oncology Nutrition Dietetic Practice Group Book Editors: Anne Coble Voss, PhD, RDN, LDN and Valaree Williams, MS, RD, CSO, LDN, CNSC, FAND
Year Published 2021
Edition 2nd Edition
Publisher Academy of Nutrition & Dietetics
ISBN 978-0880910675
Format Paperback
Page Count 690
Recommended For...
Registered Dietitian (RD/RDN)
Dietetics Technician Registered (DTR/NDTR)
Integrative & Functional Nutrition Academy Professional
American College of Sports Medicine
Why We Chose This Book
About the Author
---