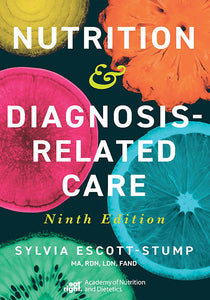 Nutrition & Diagnosis-Related Care
In its ninth edition and for over 35 years, Sylvia Escott-Stump's popular book, which is reviewed by practicing and academic nutrition experts, has been the go-to clinical nutrition resource for practitioners wanting to update or refresh their knowledge. The book covers evidence-based therapies and practice guidance on 270 clinical conditions. Mini case studies throughout demonstrate the application of the Nutrition Care Process and standardized language.
This comprehensive course offers patient care strategies for the nutrition practitioner working in any collaborative, interdisciplinary care setting.
Course Expiration Date: Apr-03-2026
Book Details
Author Sylvia Escott-Stump, MA, RDN, FAND
Year Published 2021
Edition 9th Edition
Publisher Academy of Nutrition & Dietetics
ISBN 978-0880910576
Format Paperback
Page Count 1299
Recommended For...
Registered Dietitian (RD/RDN)
Dietetics Technician Registered (DTR/NDTR)
Certified Diabetes Care & Education Specialists (CDCES)
Registered Nurse (RN)
Integrative & Functional Nutrition Academy Professional
American College of Sports Medicine
Why We Chose This Book
About the Author
---