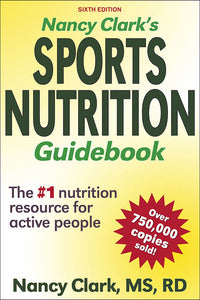 Nancy Clark's Sports Nutrition Guidebook, 6th Edition
New Edition! Written by one of the nation's top sports nutritionists, this book is totally updated and revised with latest information on timing meals for training & competition, protein vegetarian foods, supplements, organic foods, weight loss while maintaining muscle & strength, and building lean tissue. Learn about handling sports-related eating disorders and preparing for competition. 120+ pages of recipes and lots of resources for sports nutritionists. A new book edition counts as a new course.
Quotes:
Great book and course. I've gained a lot from this course that will enrich my life and the lives of others. Can't think of a single thing I didn't like about this. 4/2020
Excellent course and book! (I) will use frequently with endurance athletes.  5/2020
I will always read the latest from Nancy Clark as she continues to update. MU 2/2021
Course Expiration Date: May-31-2024
Book Details
Author Nancy Clark, MS, RD, CSSD
Year Published 2020
Edition 6th Edition
Publisher Human Kinetics
ISBN 978-1-4925-9157-3
Format Paperback
Page Count 525
Learning Code
2000
2070
2110
3000
3030
3040
3100
4000
4030
4060
5000
5460
Recommended For...
Registered Dietitian (RD/RDN)
Dietetics Technician Registered (DTR/NDTR)
Certified Diabetes Care & Education Specialists (CDCES)
Registered Nurse (RN)
Integrative & Functional Nutrition Academy Professional
American College of Sports Medicine
Why We Chose This Book
About the Author
---