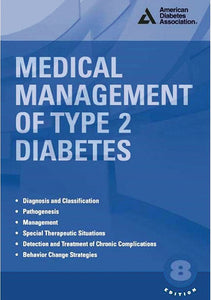 Medical Management of Type 2 Diabetes, (CHES) 8th Ed.
This course is only for CHES professionals.
New edition! As Type 2 diabetes continues to rise in prevalence around the world, it is important for clinicians to stay current and choose the most effective interventions. This edition covers oral medications, diet and lifestyle modifications, insulin regimens, and the latest clinical guidelines from ADA. Authors describe the progressive nature of Type 2 as they examine cardiovascular, microvascular, and neurologic complications; and illustrate behavior change methods.
This new 8th edition features:
Evidence-based treatments and newest agents
Expanded pharmacological interventions
Updated data on treating complications
New clinical guidelines
Quotes:
Very thorough and complete. Information was current. Course was challenging, but I felt I learned a lot. – Rose C. 3/22
I was looking for a better understanding of Type 2 Diabetes and it gave me that. – Rolf A. 5/31/22
It was very in depth. Contained much more information (medical) than I expected. - JMS 6/2020
Choose between two options:
15-hours Program I.D. #SS114228_T2D152021      CHES 15 hours max / MCHES 8 hours
26-hours Program I.D. #SS114228_T2D26               CHES 26 Hours max/ MCHES 14 hours
Course Expiration Date: May-31-2024
Book Details
Author Luigi Meneghini, MD, MBA, editor
Year Published 2020
Edition 8th Edition
Publisher American Diabetes Association
ISBN 978-1580406314
Format Paperback
Page Count 184
Recommended For...
Certified Health Education Specialist (CHES)
Why We Chose This Book
About the Author
---