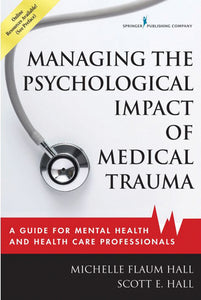 Managing the Psychological Impact of Medical Trauma
A Guide for Mental Health and Health Care Professionals
Intervention with patients who have had a traumatic experience in a health care setting is crucial in preventing psychological issues, as well as help reduce anxiety for future care. This course offers in-depth strategies for supporting patients and their families. Authors discuss the different personality traits that make some people more vulnerable than others and how to work with them.
Traumas are different for different people, but they may include difficult childbirth, serious accidents, intensive care stays, disclosure of serious diagnoses like type 1 diabetes or terminal cancer or the need for dialysis, medical mistakes, severe pain, painful or injurious therapies, and indifferent health practitioners to name a few. It includes case studies to illustrate effects of medical trauma and intervention models. The book also includes assessment tools to assist health care and mental health professionals with recognizing the many effects of medical trauma.
Quotes:
If you are interested in medical trauma and how/why patients develop PTSD and the rue gap we have in our health care system—this book is for you! – Bre, clinical social worker, Amazon, 4/2021
I treat patients with a number of presenting complaints. Because I read this, I have been able to recognize, empathize, and assist in treating the experiences of my patients in a more thoughtful and evidence-based manner. – Jacqueline Hanson, Amazon, 5/2021
Course Expiration Date: Mar-24-2026
Book Details
Author Michelle Flaum Hall, EdD, LPCC-S and Scott Hall, PhD, LPCC-S
Year Published 2016
Edition 1st Edition
Publisher Springer Publishing
ISBN 978-0826128935
Format Paperback
Page Count 324
Recommended For...
Registered Dietitian (RD/RDN)
Dietetics Technician Registered (DTR/NDTR)
Certified Diabetes Care & Education Specialists (CDCES)
Registered Nurse (RN)
Integrative & Functional Nutrition Academy Professional
American College of Sports Medicine
Why We Chose This Book
About the Author
---