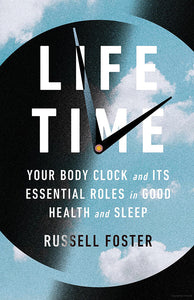 Life Time (CHES)
Your Body Clock and Its Essential Roles in Good Health and Sleep
This course is only for CHES professionals.
Intriguing book! It explores what is known about how biological clocks are embedded in every aspect of human biology, guiding us toward the best times to sleep, eat, take medications, to think, and to work. Award-winning scientist, Russell Foster, explains how and why night-shift work, caring for a newborn, and too busy calendars take their tolls on mental and physical health. Excellent resource for counselors, clinicians, and business managers.
Foster empowers readers to refute old myths and get back into harmony with daily living and sleep. He covers scheduling meals to prevent obesity and diabetes; using exposure to light to get better sleep; and much more.
Quotes:
This book has the answers to everything you've ever wondered about your natural rhythms, from sleep to eating to exercise. Excellent, engaging and evidence-based, it's a brilliant guide to an aspect of our health we don't think about enough. – Claudia Hammond, author of The Art of Rest
This is an exemplary popular science book in many ways. It is readable. Full of surprising and useful facts…Unlike many science books with similar subtitles, it really might 'revolutionize' your life. – James McConnachie, Times (UK)
Life Time should certainly be mandatory reading for night-shift workers, but its messages are so universal that it would be hard not to gain some sleep smarts from its pages, whoever you are. – Alex Wilkins, New Scientist
21 Hour Program I.D. #SS114228_LTYBC 21 CHES Hours / 5 MCHES Hours
Course Expiration Date: Jun-16-2026
Book Details
Author Russell Foster, CBE, FRS, FMedSci
Year Published 2022
Edition 1st
Publisher Yale University Press
ISBN 978-0300266917
Format Paperback
Page Count 480
Recommended For...
Certified Health Education Specialist (CHES)
Why We Chose This Book
About the Author
---