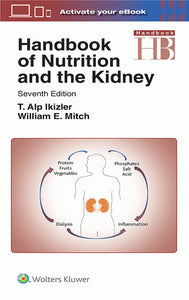 Handbook of Nutrition and the Kidney, 7th Edition
In-depth research and nutrition therapies for patients with chronic kidney disease, hemodialysis, peritoneal, and kidney transplants. We have carried this book since the 5th ed.—very popular with the experienced practitioner. Each chapter contains tables and figures that enable readers to find essential information quickly. Each book purchase has an eBook download.

This book is pocket-sized, tall and slender, and the font is smaller. However, to accommodate readers who want a larger font or to have the capability to search topics, an eBook is also included for download with each book purchase.
Quotes:
Very good information; confident of accuracy & timeliness. Will be utilized/applied. 5/16/2020
I would recommend this course to colleagues. GL 8/2020
Course Expiration Date: May-31-2024
Book Details
Author Dr. Alp Ikizler and Dr. William Mitch and 48 contributors
Year Published 2017
Edition 7th Edition
Publisher Lippincott, Wolters, Kluwer
ISBN 978-1496355812
Format Paperback
Page Count 272
Learning Code
2000
2070
2080
2090
2100
3000
3100
5000
5340
5360
Recommended For...
Registered Dietitian (RD/RDN)
Dietetics Technician Registered (DTR/NDTR)
Certified Diabetes Care & Education Specialists (CDCES)
Registered Nurse (RN)
Integrative & Functional Nutrition Academy Professional
American College of Sports Medicine
Why We Chose This Book
About the Author
---