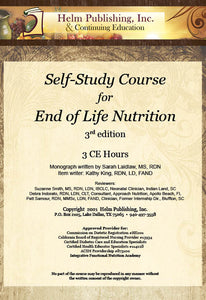 End of Life Nutrition, 3rd Edition
This monograph is helpful, evidence-based, and updated on nutrition intervention in the hospice, long-term care, and home settings. Discussion is on ethics, culture, providing emotional support to patients and their families, patient's last wishes, palliative nutrition care, and what to expect as a person dies.
This course is all online.  After purchase, you may download the Monograph with Questions PDFs from Online Test Login or within our testing system under Additional References.
Quotes:
This was a very valuable, nutrition-specific addition to a previous course I took on death & dying. Thank you for the added insight! – Kathryn B.S. 3/22
Very good information (personally and professionally). - 2/2021
Course Expiration Date: Dec-31-2023
Book Details
Author Sarah Laidlaw, MS, RDN
Year Published 2021
Edition 3rd Edition
Publisher Helm Publishing, Inc.
Format Monograph
Page Count 27
Recommended For...
Registered Dietitian (RD/RDN)
Dietetics Technician Registered (DTR/NDTR)
Certified Diabetes Care & Education Specialists (CDCES)
Registered Nurse (RN)
Integrative & Functional Nutrition Academy Professional
American College of Sports Medicine
Why We Chose This Book
About the Author
---