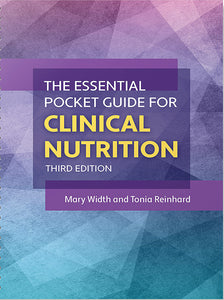 The Essential Pocket Guide for Clinical Nutrition
#1 Best seller on Amazon in Diet Therapy of all books in print. It is evidence-based nutrition therapy on health and disease. New results from hundreds of studies are included in this edition. The authors use a consistent chapter format on disease process, treatment, and nutrition intervention, which makes finding relevant information easy.
New sections cover dementia, Alzheimer's, Parkinson's, bone marrow transplants patients, food safety in intestinal transplant operations, and more. 
Quotes:
I needed to review clinicals because I haven't worked in the clinic setting for a while…and this is so useful. - Alex 2021
Course Expiration Date: Jun-16-2026
Book Details
Author Mary Width, MS, RDN and Tonia Reinhard, MS, RDN, FAND, along with 11 RDN contributors
Year Published 2020
Edition 3rd
Publisher Jones & Bartlett (JLB Learning)
ISBN 978-1284197839
Format Spiral
Page Count 538
Recommended For...
Registered Dietitian (RD/RDN)
Dietetics Technician Registered (DTR/NDTR)
Certified Diabetes Care & Education Specialists (CDCES)
Registered Nurse (RN)
Integrative & Functional Nutrition Academy Professional
American College of Sports Medicine
Why We Chose This Book
About the Author
---