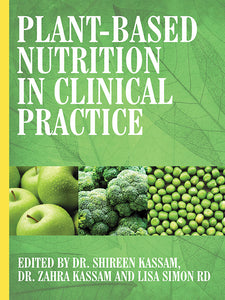 Plant-Based Nutrition in Clinical Practice
Evidence-based guide to the uses, benefits, and practical application of a plant-based diet. Based upon the UK's first university-based course on plant-based nutrition, which takes a holistic and systems-based (heart, respiratory, kidneys, liver, and gut) approach. Each chapter is written by experts in the topic. For clinicians, counselors, and all health professionals.
The book covers meeting nutritional requirements from birth to old age on a plant-based diet. It also covers mental health issues, food for athletes, bone health, dermatology, fertility, autoimmunity, cancer, diabetes, and non-alcoholic fatty liver disease.
Every primary care provider must read this book so that we can truly provide 'healthcare' rather than sickcare. Preventive care begins with lifestyle medicine… - KP Amazon 10/22
I am 100% sure I will be dipping into it regularly as a reference point while working with my clients—I've been waiting for a resource like this! – R Amazon 9/22
Course Expiration Date: Jun-26-2026
Book Details
Author Shirreen Kassam, MB BS, FRCPath, PhD, DIPIBLM, Zahra Kassam, MB BS, FRCR (UK), FRCPC, MSc, DIPIBLM, and Lisa Simon, RD
Year Published 2022
Edition 1st
Publisher Hammersmith Health Books, London, UK
ISBN 978-1781611982
Format Paperback
Page Count 460
Recommended For...
Registered Dietitian (RD/RDN)
Dietetics Technician Registered (DTR/NDTR)
Certified Diabetes Care & Education Specialists (CDCES)
Registered Nurse (RN)
Integrative & Functional Nutrition Academy Professional
American College of Sports Medicine
Why We Chose This Book
About the Author
---