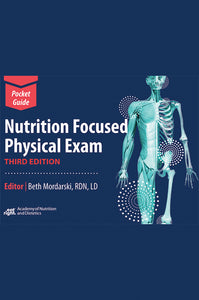 Nutrition Focused Physical Exam Pocket Guide
This 3rd edition has updated images depicting micronutrient deficiencies, degrees of fat and muscle wasting, and expanded guidance on laboratory assays for vitamin and mineral status. It provides essential tools for malnutrition and micronutrient assessment, documentation, and coding.
This comprehensive course offers patient-centered nutrition-focused physical exam assessment guidelines for the nutrition practitioner working in any collaborative, interdisciplinary care setting.
Course Expiration Date: Mar-31-2026
Book Details
Author Beth Mordarski, RDN, LD
Year Published 2021
Edition 3rd Edition
Publisher Academy of Nutrition & Dietetics
ISBN 978-0880912068
Format Paperback
Page Count 68
Recommended For...
Registered Dietitian (RD/RDN)
Dietetics Technician Registered (DTR/NDTR)
Registered Nurse (RN)
Certified Diabetes Care & Education Specialists (CDCES)
Integrative & Functional Nutrition Academy Professional
American College of Sports Medicine
Why We Chose This Book
About the Author
---