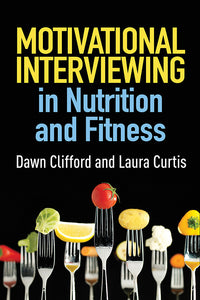 Motivational Interviewing in Nutrition and Fitness (CHES)
This course is only for CHES professionals.
This book explains the proven, popular counseling approach, Motivational Interviewing (MI), and shows how to integrate it into present counseling interactions with clients. MI offers tools to help clients work through ambivalence and avoid quick-fixes and overcome barriers to change and maintain healthier habits. Sample dialogues show specific ways to improve conversations on movement and planning and eating better.
Quotes:
This book fills a void in the education of nutrition …professionals. Even the most experienced professional will find useful ideas to apply in practice. Molly Kellogg, RDN, LCSW, private practice, Philadelphia, PA
I really enjoyed the sample dialogue and examples of questions. 1/2020 
I learned a lot of great techniques and how to not insert my own experiences too much. MH 5/2020
Thank you! This topic is of strong interest to me. This was a readily available way for me to become well versed in MI. 3/2020
I will be able to use the skills on a daily basis. 8/2020
I liked the examples of interactions between practitioner and client. HH 1/2021
I use this every day in my new job as a health coach. EBH 2/2021
I plan to focus more on open-ended questions and gauging where my participants are in the stages of change. MZ 2/2021
Choose between two options:
CHES Program ID #SS114228_MI102020  Max CHES 10 hours
CHES Program ID #SS114228_MI202020  Max CHES 20 hours
Course Expiration Date: Jun-12-2026
Book Details
Author Dawn Clifford, PhD, RDN, and Laura Curtis, MS, RDN
Year Published 2016
Edition 1st Edition
Publisher Guilford Press
ISBN 978-1-4625-2418-1
Format Paperback
Page Count 276
Recommended For...
Certified Health Education Specialist (CHES)
Why We Chose This Book
About the Author
---