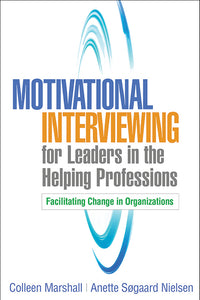 Motivational Interviewing for Leaders in the Helping Professions (CHES)
Facilitating Change in Organizations
This course is only for CHES professionals.
For the manager, entrepreneur, leader, or aspiring leader in health care and social services. Learn how to transform conversations and minimize resistance within colleagues and employees concerning change, addressing performance, or creating new procedures. Readers are guided to apply the MI principles in the management context. Book also contains user-friendly worksheets and self-reflection exercises.
Quotes:
Marshall and Nielsen offer a unique, creative combination of organizational leadership and MI. The coverage of MI seems very clear for someone with no prior exposure, with rich and detailed applications to organizations, particularly at the supervision and work group levels. The case examples are extremely useful and relevant to health and human service settings. There are examples of dialogue to use in supervision, as well as probing reflective exercises and worksheets to help the reader apply the material.  Tom Packard, DSW, School of Social Work (Emeritus), San Diego State University
15 hr-Program ID# 114228_MIL15  CHES 15 Hours / MCHES 6 Hours
Course Expiration Date: May-31-2024
Book Details
Author Colleen Marshall, MA, LMFT and Anette Søgaard Nielsen, PhD
Year Published 2020
Edition 1st Edition
Publisher Guilford Press
ISBN 978-1462543816
Format Paperback
Page Count 151
Recommended For...
Certified Health Education Specialist (CHES)
Why We Chose This Book
About the Author
---