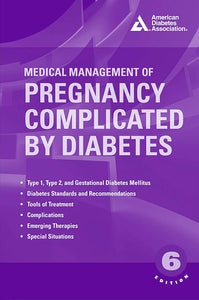 Medical Management of Pregnancy Complicated by Diabetes, 6th edition
Learn evidence-based diabetes protocols that help produce healthy infants and mothers with pregnancies complicated by type 1, type 2, and gestational diabetes. Excellent resource!
Topics covered include:
• Pre- and interpregnancy counseling and contraception
• Lifestyle and nutrition management
• Glycemic management: medications and insulin use
• Possible complications
• Delivery and neonatal care
• Postpartum care
Quotes: 
Very straightforward. Easy to understand. Fact based. SS 2/2021
Lots of examples. Easy to read and understand. EP 2021
Course Expiration Date: Apr-14-2026
Book Details
Author Erika Werner, MS, MD
Year Published 2019
Edition 6th Edition
Publisher American Diabetes Association
ISBN 978-1-58040-698-7
Format Paperback
Page Count 184
Recommended For...
Registered Dietitian (RD/RDN)
Dietetics Technician Registered (DTR/NDTR)
Certified Diabetes Care & Education Specialists (CDCES)
Registered Nurse (RN)
Integrative & Functional Nutrition Academy Professional
American College of Sports Medicine
Why We Chose This Book
About the Author
---