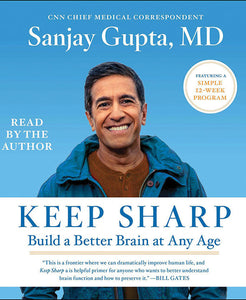 Keep Sharp (CHES)
Build a Better Brain at Any Age
This course is only for CHES professionals.
New York Times Best Seller! This course is a comprehensive review of the evidence-based research regarding cognitive longevity. Gupta, MD, CNN medical correspondent, discusses protecting the brain from decline and providing resiliency if it has begun. The text provides steps for the reader to help change and maintain the most important behaviors that influence brain health and clarity.
Quotes:
Dr. Sanjay Gupta has the unique ability to translate the latest scientific research into accessible language we can all understand. – Gary Small, MD, Director, UCLA Longevity Center
Gupta is brilliant at busting myths, allaying fears, and giving us the solutions we need to keep sharp throughout our lives. – Dean Ornish, MD, Founder & President, Preventive Medicine Research Institute
A genuine source of practical knowledge and sympathy to those struggling with dementia and the family members who are primary caregivers. – Kirkus Reviews
This is a frontier where we can dramatically improve human life. – Bill Gates
25-Hour Program I.D. #SS114228_KS18  CHES 11 Hours / MCHES 7 Hours
Course Expiration Date: Apr-04-2026
Book Details
Author Dr. Sanjay Gupta, MD
Year Published 2022
Edition 1st Edition
Publisher Simon & Schuster
ISBN 978-1501166747
Format Paperback
Page Count 336
Recommended For...
Certified Health Education Specialist (CHES)
Why We Chose This Book
About the Author
---