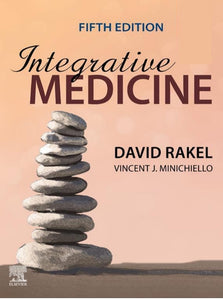 Integrative Medicine, 5th ed.
Excellent book and course! Written by physicians who are both experts in traditional and complementary medicine, this book uses a clinical, disease-oriented approach to safely incorporate alternative therapies into primary care practice. Contains 10 new chapters on topics like fatty liver, supporting immunity, tapering off opioids, and reducing polypharmacy.
Book includes eBook version.
This book uses the reliable SORT method (Strength of Recommendation Taxonomy) to provide evidence-based ratings, grading both the evidence and the relative potential harm.
Quotes:
I am a health professional, and have eagerly awaited each new edition of this information-packed textbook. – HP, Amazon 11/2/22
I've been using Rakel's text since I started practicing integrative medicine in 2015. I always like a hardcopy to reference… – BV, Amazon 1/22/23
Course Expiration Date: May-26-2026
Book Details
Author Dr. David Rakel, MD and Vincent Joseph Minichiello, MD
Year Published 2022
Edition 5th
Publisher Elsevier
ISBN 978-0323777278
Format Hardback
Page Count 1152
Recommended For...
Registered Dietitian (RD/RDN)
Dietetics Technician Registered (DTR/NDTR)
Certified Diabetes Care & Education Specialists (CDCES)
Registered Nurse (RN)
Integrative & Functional Nutrition Academy Professional
American College of Sports Medicine
Why We Chose This Book
About the Author
---