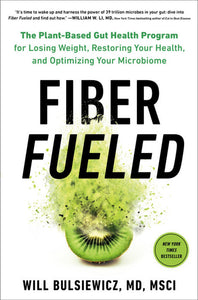 Fiber Fueled (CHES)
The Plant-Based Gut Health Program for Losing Weight, Restoring Your Health, and Optimizing Your Microbiome
This course is only for CHES professionals.
New York Times Bestseller! This book is thought provoking, fresh, and approachable. It covers the latest in evidence-based research that challenges popular keto and paleo diets and their research findings. The scientifically proven way to fuel our gut microbiome that boost metabolism, balances hormones, helps tame inflammation, and improve immunity is by eating dietary fiber from an abundant variety of colorful plants.
Quotes:
"Fiber Fueled will set a new standard of care within the medical community and permit patients to take control of their health destiny without dangerous drugs." J Fuhrman, MD
"As someone who has had a difficult relationship with food and weight most of my adult life, this book has become the 'missing link' in my understanding in how to nourish and feed my body." H Sander, UK, Amazon 2020
Choose between two test options with the same book:
15-hour Program I.D. #SS114228_FF15     CHES 15 hours / MCHES 2 hours
25-hour Program I.D. #SS114228_FF25     CHES 25 hours / MCHES 4 hours
Course Expiration Date: May-31-2024
Book Details
Author Will Bulsiewicz, MD, MSCI
Year Published 2020
Edition 1st Edition
Publisher Avery
ISBN 978-0593084564
Format Hardback
Page Count 400
Recommended For...
Certified Health Education Specialist (CHES)
Why We Chose This Book
About the Author
---