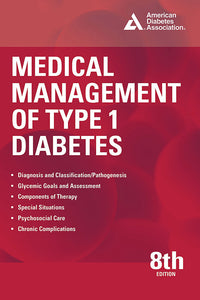 Medical Management of Type 1 Diabetes, (CHES) 8th Ed.
This course is only for CHES practitioners.
This new updated 8th edition covers the newest evidence-based research in insulin administration, pump therapy, and CGM. There are therapies for the management or prevention of complications, information on diabetes self-care and counseling strategies to improve family support and psychosocial care.
Health-care professionals are tasked with creating individualized, flexible treatment plans to optimize blood glucose control while accounting for diabetes complications, psychosocial factors, and the developmental stage of each patient. 
30 Hour Program I.D. #SS114228_T1D8E 30 CHES Hours / 10 MCHES Hours
Course Expiration Date: Jun-16-2026
Book Details
Author M. Sue Kirkman, MD
Year Published 2022
Edition 8th
Publisher American Diabetes Association
ISBN 978-1580407700
Format Paperback
Page Count 276
Recommended For...
Certified Health Education Specialist (CHES)
Why We Chose This Book
About the Author
---