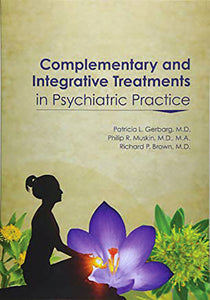 Complementary & Integrative Treatments in Psychiatric Practice
Evidence-based book with integrative and nutritional treatments to reduce medications and their side effects for people with depression, anxiety, bipolar, trauma, PTSD, and other disorders. For all practitioners, especially in the VA, group homes, and psychiatric settings with children, teens and adults. Use this book as a guide for plant-based interventions and mind-body practices, also includes equine therapy, neurostimulation, and visual management.  
Course Expiration Date: May-31-2024
Book Details
Author Patricia Garbarg, MD, Philip Muskin, MD, MA, and Richard Brown, MD and 54 contributors
Year Published 2017
Edition 1st Edition
Publisher American Psychiatric Association
ISBN 978-1615370313
Format Paperback
Page Count 425
Learning Code
2000
2010
2100
3070
3100
5320
5420
Recommended For...
Registered Dietitian (RD/RDN)
Dietetics Technician Registered (DTR/NDTR)
Registered Nurse (RN)
Integrative & Functional Nutrition Academy Professional
American College of Sports Medicine
Why We Chose This Book
About the Author
---