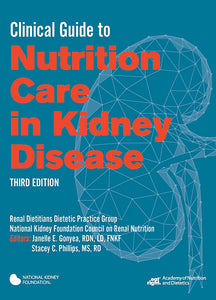 Clinical Guide to Nutrition Care in Kidney Disease
This wonderful resource is for the experienced renal dietitian, as well as those new to renal nutrition who want to know the latest guidelines for preventive and therapeutic practice. This edition covers topics found in outpatient clinics, transplant and dialysis centers, long term care, and hospitals. The Academy also offers 10 CE additional hours.
New 3rd edition chapters cover nutrition management of kidney stones, oral nutrition supplements, nutrition guidelines for renal patients following vegetarian, vegan or plant-based diets, and the connection between the gut and kidney disease.
Course Expiration Date: Jun-23-2026
Book Details
Author Janelle Gonyea, RDN, LD, FNKF and Stacey Phillips, MS, RDN
Year Published 2023
Edition 3rd
Publisher Academy of Nutrition & Dietetics
ISBN 978-0880912013
Format Paperback
Page Count 503
Recommended For...
Registered Dietitian (RD/RDN)
Dietetics Technician Registered (DTR/NDTR)
Certified Diabetes Care & Education Specialists (CDCES)
Registered Nurse (RN)
Integrative & Functional Nutrition Academy Professional
American College of Sports Medicine
Why We Chose This Book
About the Author
---