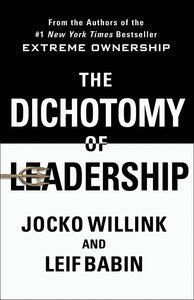 The Dichotomy of Leadership (CHES)
This course is only for CHES professionals.
This book is written about finding the balance between opposing forces that pull every leader in different directions. The authors dive into the nuances that every successful leader must navigate.
Written by the #1 New York Times bestselling authors of Extreme Ownership, this book discusses the balance of when to lead, when to follow; when to aggressively maneuver and when to pause and let things develop; when to detach and let the team run and when to micromanage.
Quotes:
I've never read a book that reveals the truths of leadership in such detail and rawness. The true value of this book cannot be quantified in words. - P. Roberts, Co-Founder & CEO, Origin Maine
Finally, a book that tells the truth on how hard and complex it can be to tackle leadership challenges. - L Horton, Dir. of Cloud Services, Cyber Security Company
Inspiring, practical, and honest lessons that transcend the battlefield. Buy this book, read it, and apply the lessons to any challenge. - S. Armstrong, CFO, Mesa Technical Assoc.
7-hour Program I.D. #SS114228_DL7     CHES 7 hours max / MCHES 5 hours
Course Expiration Date: May-31-2024
Book Details
Author Jocko Willink and Leif Babin
Year Published 2019
Edition 1st Edition
Publisher Macmillan
ISBN 978-1250247100
Format Paperback
Page Count 320
Recommended For...
Certified Health Education Specialist (CHES)
Why We Chose This Book
About the Author
---