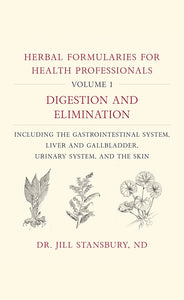 Herbal Formularies for Health Professionals, Volume 1: Digestion and Elimination
This reference covers everything an RDN needs to know about herbs and herbal preparations that influence the gastrointestinal system. Volume 1 focuses on digestive health and the emunctories, an herbal term referring to the organs of elimination: the gastrointestinal system, the urinary system, and the skin. This volume offers formulas and supporting information for treating gastrointestinal and biliary conditions, liver and gallbladder conditions, renal and urinary conditions, and dermatologic conditions. This is a comprehensive book on herbs for health professionals. Excellent resource to assess what herbs patients are taking and their safety and benefits or possible harmful effects.
Each chapter includes a materia medica section that describes individual herbs with tips on their properties, modes of action, and the specific symptoms each plant best addresses.
 Quotes:
This is so relevant to my work supporting many patients with GI challenges! KK 3/2020
Extremely interesting and can apply to life. SD 8/2020
Course Expiration Date: May-31-2024
Book Details
Author Dr. Jill Stansbury, ND
Year Published 2018
Edition 1st Edition
Publisher Chelsea Green Publishing
ISBN 978-1603587075
Format Hardback
Page Count 352
Learning Code
2000
2010
2020
2040
2050
2060
2070
2080
2090
2100
3000
3010
3060
3070
3080
3090
3100
5000
5130
5150
5220
5230
5440
5460
Recommended For...
Registered Dietitian (RD/RDN)
Dietetics Technician Registered (DTR/NDTR)
Registered Nurse (RN)
Integrative & Functional Nutrition Academy Professional
American College of Sports Medicine
Why We Chose This Book
About the Author
---