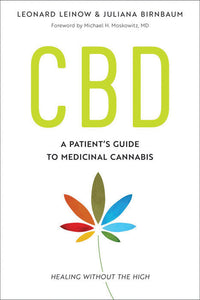 CBD 2021: Guide to Medicinal Cannabis
Healing without the High
Excellent resource! Leinow has three decades of experience growing and studying medical cannabis. Considering the growing interest in this plant and its medicinal properties, including as an alternative to opioids for pain, we need to educate ourselves.
Quotes:
This is the go-to-guidebook for anyone wanting to learn about CBD. NLM, 2017
The most comprehensive publication on the science and therapeutic use of cannabinoids yet produced.  Jeffrey Anderson, MD
Medical cannabis is revolutionizing the practice of medicine in America. On the forefront of that revolution is CBD: A Patient's Guide to Medicinal Cannabis, a must-read for health care practitioners and patients alike. Joel Samuels, MD
I absolutely loved this book! The test was perfect, I really learned a lot! M.R. 2/2020
I couldn't put this book down! Fascinating, completely held my attention. I've already been sharing this info with family and co-workers at my clinic. R.R. 12/2020
Course Expiration Date: May-31-2024
Book Details
Author Leonard Leinow and Juliana Birnbaum
Year Published 2017
Edition 1st Edition
Publisher North Atlantic Books
ISBN 978-1623171834
Format Paperback
Page Count 352
Recommended For...
Registered Dietitian (RD/RDN)
Dietetics Technician Registered (DTR/NDTR)
Integrative & Functional Nutrition Academy Professional
Registered Nurse (RN)
American College of Sports Medicine
Why We Chose This Book
About the Author
---