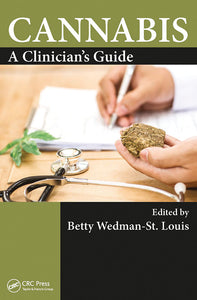 Cannabis: A Clinician's Guide
Next Step Clinical Course
Written for clinicians by a dietitian who first worked with cannabis in 1981 in India, this book helps you understand the endocannabinoid system in the body, plus efficacy, dosing, regulations. Includes use for neurological disorders, cancer, CV, liver function, mood disorders, and palliative care. It contains the most recent research. 18 contributing authors.
Course Expiration Date: May-31-2024
Book Details
Author Betty Wedman-St. Louis, PhD, RDN and 18 contributors
Year Published 2018
Edition 1st Edition
Publisher CRC Press
ISBN 978-1138303249
Format Paperback
Page Count 290
Learning Code
2000
2100
3000
4040
4150
5000
5070
5290
5370
5420
Recommended For...
Registered Dietitian (RD/RDN)
Dietetics Technician Registered (DTR/NDTR)
Registered Nurse (RN)
Integrative & Functional Nutrition Academy Professional
American College of Sports Medicine
Why We Chose This Book
About the Author
---